A high level of anxiety is common in most cats and dogs
Studies from Harvard University have shown that 3 out of 4 pets experience "character-influencing" fears every day!
Imagine you are your pet and how relaxing it would be to sleep on a big fluffy cloud ...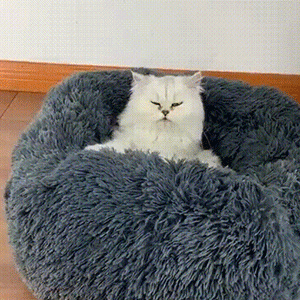 Wouldn't you like to give your best friend the comfortable life he deserves?
REDUCES FEAR: A raised rim that wraps your best friend in a warm hug. This has a positive effect on your nervous system, calms your sensitive behavior and gives comfort whenever you need it.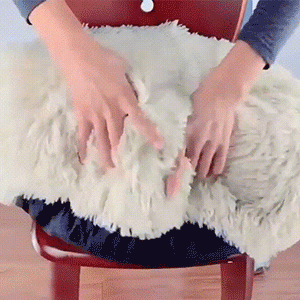 REDUCES NERVOUS TENSIONS: Luxurious faux fur that mimics the mother's fur. This triggers a mental feeling of security, reduces loneliness and calms the little ones.
RELIEVES PAIN & POSITION CORRECTION: Raised edges support the neck and spine of your fluffy friend, while our high-quality, soft cotton soothes muscle and joint pain.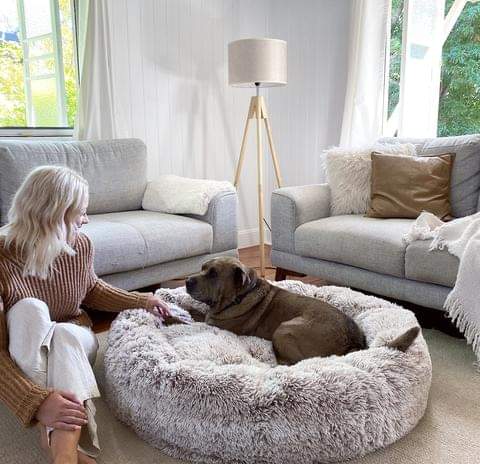 REMEDIES BUT WITHOUT MEDICINES: The product acts like a natural remedy that reduces stress caused by separation, thunderstorms, fireworks, travel, visits to the vet and loneliness.
STYLISH: No longer an eyesore, our minimalist design and sophisticated colors blend seamlessly into the style of your home.
SAFE FOR YOUR PET: Antibacterial synthetic fur, organic cotton and hard-wearing nylon guarantee a comfortable and hygienic place for your fluffy friend to fall asleep.
MACHINE WASHABLE: The product is easy to clean. Simply wash at an environmentally friendly 30 degrees. To maintain quality and durability, the use of a dryer is not recommended.
NO MORE CHEAP WOOL: That dissolves after just one wash, just like new!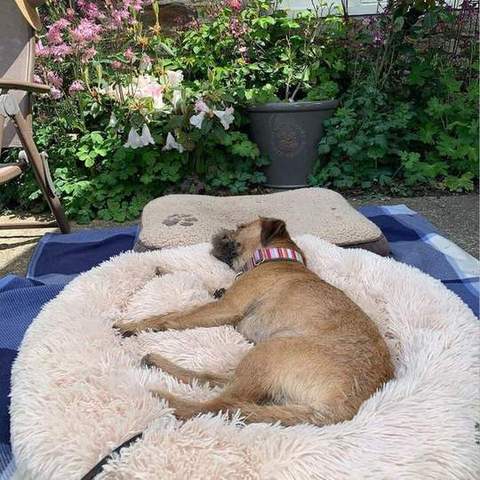 Size:
XS - 2.5 kg - CHIHUAHUA (SMALL), MALTESE (SMALL), ZWERGSPITZ, YORKSHIRE TERRIER (SMALL)
S - 5 kg - ITALIAN GREYHOUND, JAPANCHIN, JAPANESE TERRIER, MALTESER, PAPILLON, DWARF SPANIEL, YORKSHIRE TERRIER, MINIATURE POODLE, NORFOLK TERRIER, DWARF
M - 9 kg - BORDER TERRIER, BOSTON TERRIER, CAVALIER KING CHARLES SPANIEL, FOX TERRIER, JACK RUSSELL, MINIATURE POODLE, PUG, DWARF SCHNAUZER, SHIH TZU, WESTIE
L - 18 kg - BEAGLE, FRENCH BULLDOG, COCKER SPANIEL, DACHSHUND, SHETL AND SHEEPDOG, STAFFORDSHIRE BULL TERRIER, WHIPPET
WHAT OTHER ANIMAL FRIENDS THINK
My baby likes this bed so much that she lies in it all day. She shows how much she loves it by staring me right in the eye while putting on a big show of rolling around and extensive stretching. I've never seen her so satisfied! -Marie, M.
SPECIFICATIONS
Material: Synthetic Fur, Organic Cotton, Nylon
Size: 40cm,50cm, 60cm, 70cm
Color: Gray, Beige, Pink, Dark Gray, Green
Package Includes: 1*Calming Anti-Anxiety Donut Pet Bed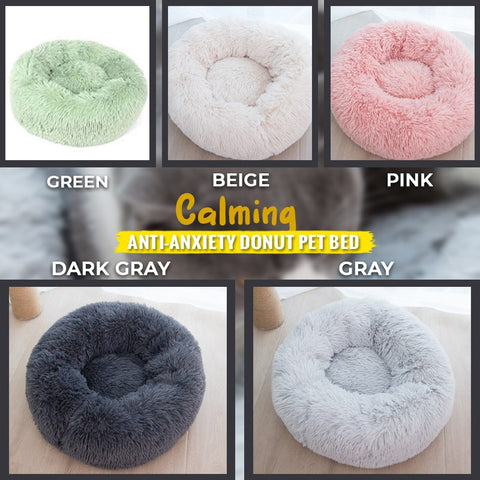 NOTE
Due to manual measurements, please allow slight measurement deviations.
Due to the different display and lighting effects, the actual color of the item may be slightly different from the color displayed on the picture.