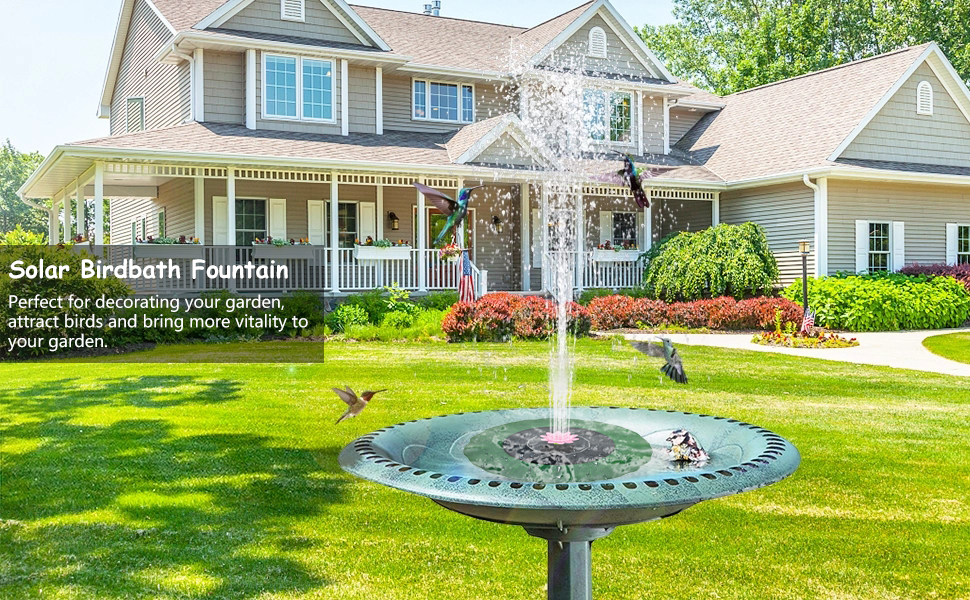 Solar Fountain Bird Bath Fountain with 8 different styles of nozzle heads.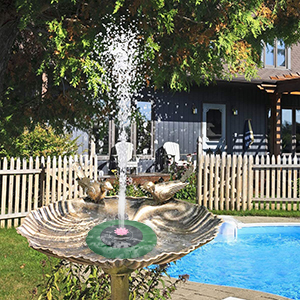 Upgrade Design
The latest upgrade lotus leaf-shaped design and abundant nozzle accessories can definitely bring more vitality to your pond or swimming pool.

Solar Power&800mAh Battery
Due to the powerful solar panel and 800mAh battery backup, our solar fountain pump can store energy when the solar fountain pump is working in full sun,it can also work on cloudy days or faint sunlight!

Floating Solar Fountain Pump
Just make the solar water pump float on water, it will works automatically within several seconds after solar panel gained sunlight.
Removable&Washable
Remember to add enough water to your pool. The pump is removable and washable. Please clean the solar fountain panel and pump regularly, which will effectively extend the pump's life.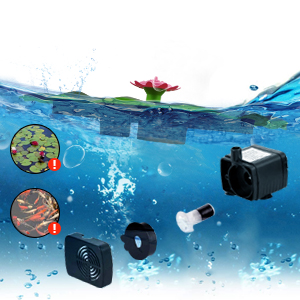 8 colorful nozzles
The birdbath fountain comes with two connection heads and 8 nozzles. You can choose different nozzles to change the height of the water spray. The water can rise to about 24-40in.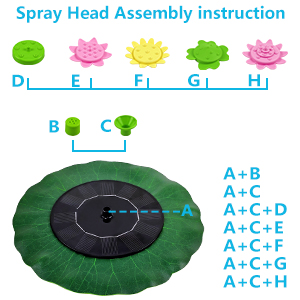 Suitable for multiple places
Our solar lotus fountain is perfect for your garden or yard, especially for small applications like a birdbath or small pond. not only to attract birds to drink in your birdbath but also to add fun to your children while playing in the pool.
Specifications:
Battery: 3.7V, 800mAh
Solar panel: 6V 1.4W
Size of solar panel: 8.7*1.4 inch
Maximum water height: 40 inches
Max flow of pump: 175L/H
Delay: ≤3s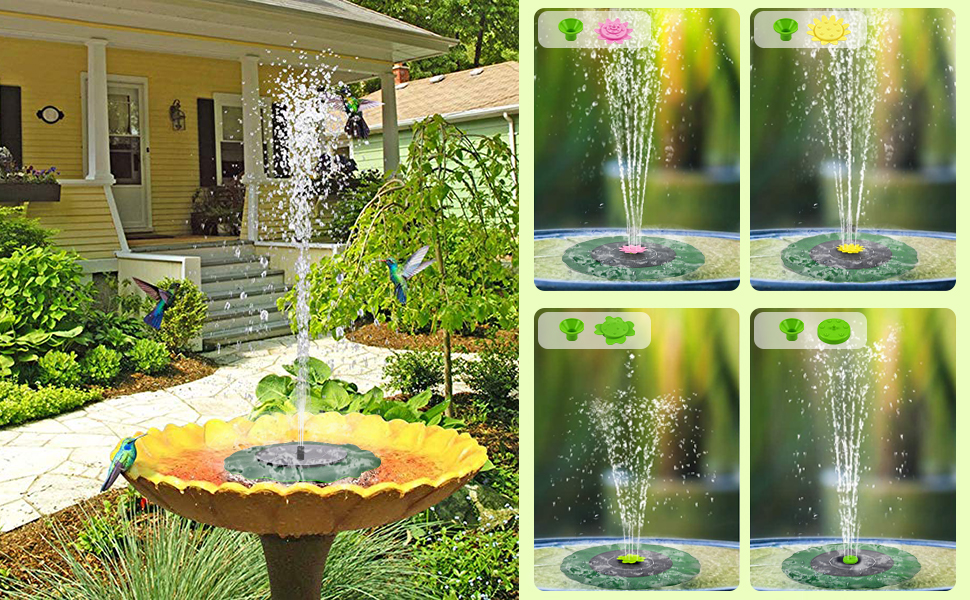 Warm Tips:
1.Before using the product, please remove the protective film on the solar panel.
2. Make sure you have enough water in the fountain so that the pump can stay completely underwater.
3. When it starts to work please keep the surface of the panel without any obstructed objects.
4. Don't make the pump work without water for a long time, otherwise, its lifespan will be shortened.
5. Please clean it on regular basis to avoid the pump get blocked with dirt.