Eradicate Toenail Fungus, Tiring Legs & Rough Heels using this Fungusfree™ Peeling Foot Soak at home!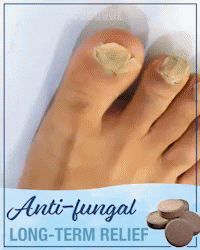 Fungusfree™ Peeling Foot Soak eliminates toenail fungus and odor-causing bacteria while softening rough heels & cracked feet for a smooth & healthy skin!


Natural Herbal Extracts run deep to the root of bacteria by foot soak curing method, nail bed is penetrated deeply and is soaked away toxic nail fungus.It also exfoliates dead skin to reveal soft & smooth feet.


FEATURES:
Effective Anti-Fungus: Instant and Long-Term Relief to treat fungal, cracking & burning caused by toe or skin fungus.
Relieves Foot Fungus Symptoms: Reduce pain, itchiness & inflammation from most foot fungal bacteria.
Exfoliates & Promotes Skin Renewal: Remove all dry, cracked & dead skin while softening corns, calluses & rough heels.
Odor-Free with Anti-Bacterial Properties: Antiseptic and anti-bacterial properties to deodorize.
Condition Skin: Hydrate skin for a refreshed & relaxing foot SPA experience.
Safe to Use with Hypoallergenic Formulation: Non-toxic & no harsh chemicals.


SPECIFICATIONS:
Net Content: 48g

USAGE:
Simply put one tablet to a 4L 45-50° water, soak your feet for 15 mins, and use 2-3 times a week.


PACKAGE CONTENT:
Fungusfree™ Peeling Foot Soak(1 pack / 2 packs)