Features a collapsible design, This Leather Waxed Canvas Pouch is specifically perfect for outdoor activities and workshopping.


It is an on-the-go pouch bag and multipurpose for an easier foraging, harvesting, and carrying of your stuffs.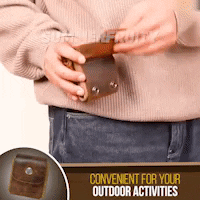 You can attach this bag over your belt, belt loop or backpack, hands-free access when you're on the trail.


Collapsible Design
Convenient to use on outdoor activities, to have a ready extra storage for all your stuffs.


Belt Loop + Drawstring
Attach the loop on your belt using the two metal clasp for easier and hands-free access. Just tighten the drawstring to close the bag to prevent any items from falling.


Premium Leather
Made of high-quality leather which is durable, not easy to fade and deform.
Durable Canvas
The main body of the pouch is made of soft waxed canvas material, strong and firm, easy to clean.


Size: Retracted: 8cm x 10cm, Unfolded: 23cm x 21cm
Color: Black, Brown, Green, Beige