Do You Fear Cutting Your Childs Nails?
Say Goodbye to traditional baby nail clippers!
We created Premium Baby Nail Trimmer for those parents like myself who struggle with a squirmy child. 
Cutting my daughters nails gives me like many parents anxiety every-time 😰 but I knew I needed a solution when our daughter began scratching her face in her sleep. 
How it works?
 Our nail trimmer is specifically designed to safely and quickly trim and polish little toe and fingernails for both babies as well as adults. It is super soft and will not damage cuticles or nail beds.
No need for nail clippers, no need to fear cutting a babies little finger with nail clippers. Safe and easy trimmers for new-born nails or adults.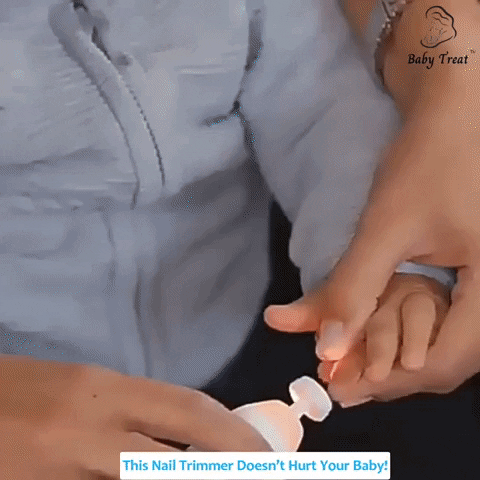 VERY QUIET DURING OPERATION: Are you going to use it at night while they sleep? Due to its whisper-quiet motor, you can cut their nails while they sleep without them even knowing it!
NO MORE SCARS AND UNEXPECTED SCRATCHES:

 Babies frequently have their hands up near their faces, and it is easy for them to accidentally leave cuts if their nails are not kept very short or cut incorrectly.
EASY TO USE: Designed to control speed and rotation in order to enhance nail trimming positions for softer, smoother nails.
SUITABLE FOR BOTH YOU AND YOUR CHILD: This Electric Trimmer is not just for children, but you can also use it for yourself at home and save a lot of money compared to salons!
AN EXCELLENT GIFT 
This LED electric baby nail trimmer is an excellent gift for friends, family members and anyone with a baby. Compact, lightweight, and easy to gift. 
Package Includes:
1x Nail Trimmer (pink or blue)
6x Nail Trimmer Heads