Need to massage while in the shower?

There's no need to be concerned with our Showerhead Detangling Brush because the detangling attachment works like a brush - a full coverage spray with wideset teeth softly detangles, massages, and rinses hair all at once!
💡WHAT IS THE PURPOSE OF THE SHOWERHEAD DETANGLING SHOWER?
        With the Showerhead Detangling Shower, you can wash your hair,  and get a          relaxing massage all in one.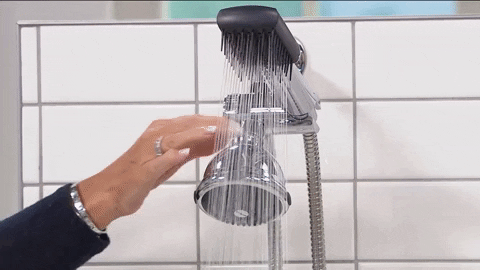 💡WHAT IS THE BEST  WAY TO USE A DETANGLING  SHOWERHEAD?
        Wash your hair and enjoy a rejuvenating massage right in your shower using the Detangling Showerhead. Detangling and rinse hair at the same time.
Showerhead offers the ultimate shower experience! Enjoy this luxurious shower!
FEATURES:
Hair Detangling Shower 
The 2-way diverter value shifts the spray from handheld to wall-mount, allowing you to massage and brush conditioner through your hair without having to use water.
Ion Ball Technology
Designed and created to be environmentally friendly. It is chemical-free and lets you take care of your hair with no harmful chemicals that can damage your hair because it uses non-toxic abs plastic materials. 
Relaxing and Reduces Stress
While you take shower it gives you a relaxing massage with water therapy for your hair. It slowly showers your hair and head that give you a massage feeling to help you feel better and relaxed.
SPECIFICATIONS:
Material: Plastic
Thread Size: G1/2 Standard size
Package Includes:
1 x Showerhead Detangling Brush