Why should dogs and cats be regularly brushed?
Due to the lack of self-cleaning function of floating hair, it is easy to breed a large number of bacteria, affecting the secretion of cat skin oil. Cats often lick their hair, but also accumulate hair pills in the body, damaging their health!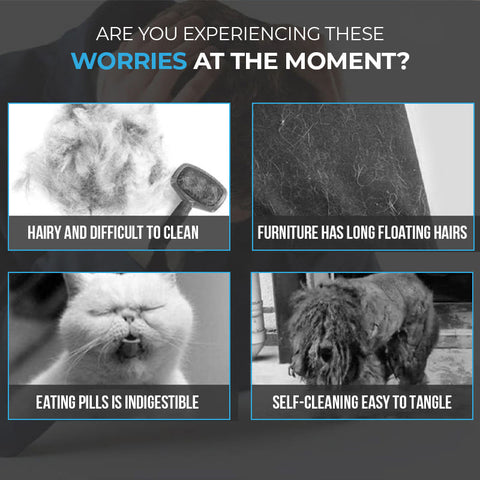 With this cat hair remover, one hand press, one key hair removal, one hand operation effortless!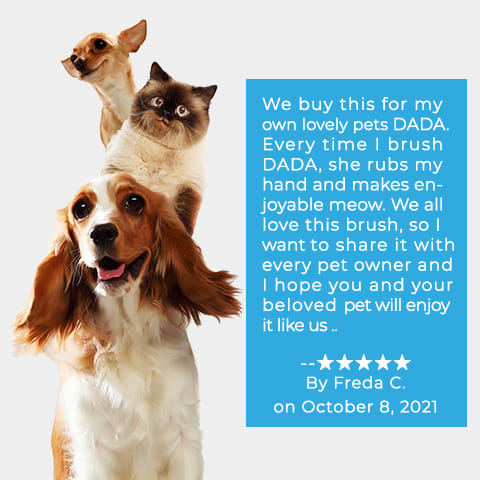 FEATURE
Scalable design,One-Click Cleaning
After brushing your pet, simply click the button. The shutter will pop up, separating the brushed hair from the metal needle, then wipe the hair off. The button of dog brush for shedding short hair behind saves time and energy when grooming and cleaning.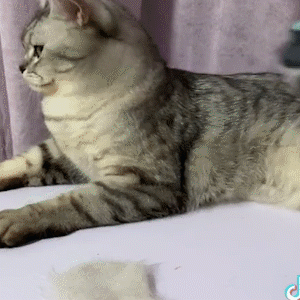 It is also a skin massage comb
232 massage protection points, all protected by resin, just like a SPA, massage promotes blood circulation, to prevent skin diseases, won't scratch your pet's skin, give your pet the most comfortable experience.
Personalized design, easy to clean
170° bent tooth, needle surface adopts directional movable design, increasing bristle area. The movable space of transverse needle is large and suitable for dogs and cats with soft hair. The movable space of longitudinal needle is small and suitable for opening knots. And our pet brush is washable, which can keep the brush hygienic.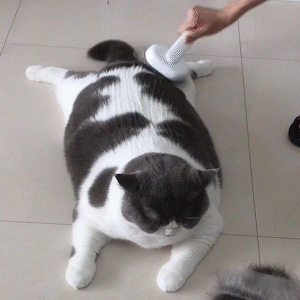 Using high quality materials
10mm/12mm high density curved needle comb, deep into the bottom of hair, easy to remove the inner layer of shedding hairs, reasonable tooth spacing, a thin in the end no hair stuck, no flying, no static electricity. Adopt the new plastic wrapping technology, high quality ABS plastic+ TPR+ stainless steel needle, healthy and environmental protection.
Perfect beauty tool cat brush
Gently removes undercoat, loose hair, knots, flakes and trapped dirt.This cat brush can gently and effectively remove loose hair, tangles, knots, dander and trapped dirt. Suitable for short, medium or long, thick, thin or curly haired dogs/cats/rabbits, making your pets shiny and healthy. That not only keep your pets clean, but also provide you with a clean and hygienic environment at home.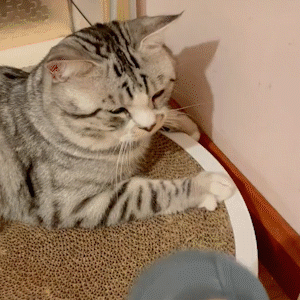 Comfortable non-slip handle
Our pet brush is designed with a comfort-grip and nonslip handle, which also has a massage function for your hand and you won't get tired easily when you brush your pet.
Pleasant brushing experience
Pet grooming can strengthen communication and deepen the bond between you and your pets. Our brush is suitable for all breeds and types of coat. With our plucking brush for pets, your beloved pet will enjoy the time of grooming.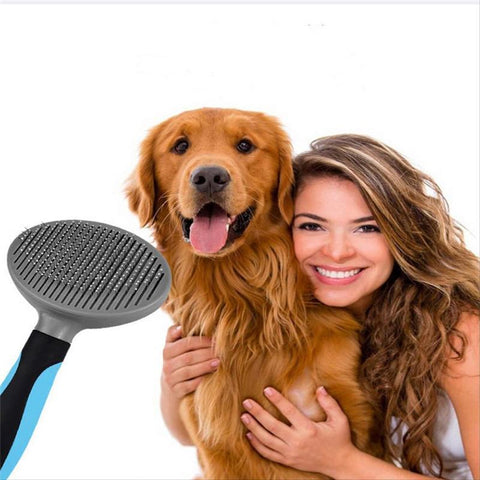 One button restrict and release
Groom your fur friends in Comfort
A non-slip silicone ergonomic comfort grip and thumb rest allows for easy control. A comfort-grip and non-slip handle prevents hand and wrist strain, so you can brush your furry friend for as long as they need. No need to hold the button while brushing your cute pet.
How to reduce the pain during brushing?
Hold the hair root with one hand, comb along the direction of hair growth with the other hand; When the hair knots are serious behind the ears and on the neck, the movements should be gentle; Comb the long hair layer by layer, turning the outer layer over and combing the inner layer.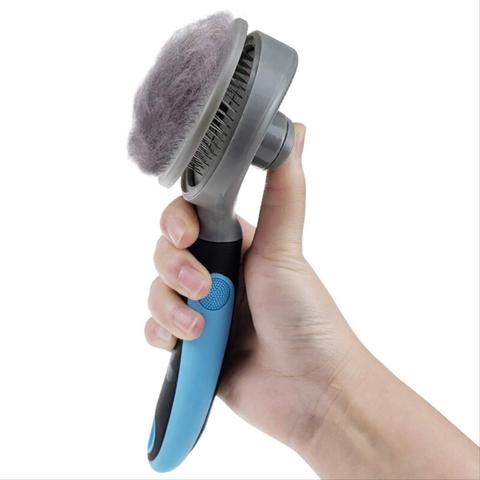 USAGE
Step1: Brush your pet with gentle move.
Step2: Simply press the clean button to retract bristles and wipe hair off.
Step3: Remove the hair from the brush.
What if my pet doesn't like it?
You can guide with snack, lengthen the grooming time every day, our self cleaning slicker brush is gentle and not stimulating,
your cute pet will gradually like it.
Note:
Store out of reach of children.
Specification:
Shape:Ball-ended, Long oval
Weight: 140g
Material: ABS+TPR+stainless steel needle
Packing: paper card blister
Package include:
1*SPA pet hair removing comb